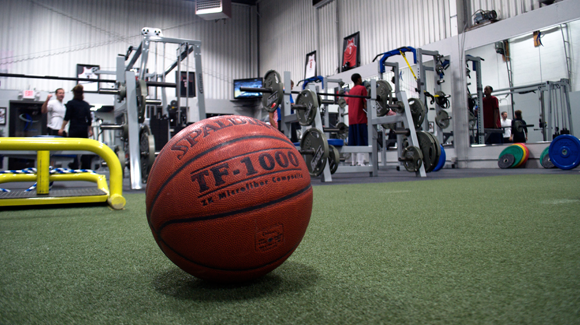 The problem with 5-on-5 basketball for kids
5-on-5 basketball is overrated. It's boring. It's slow. Worse yet, it's a poor teaching tool for young athletes.
Don't agree? Hear us out…
Most coaches and parents would (should) agree that the primary goal of youth basketball should be skill development. Keeping track of wins and losses from an organizational and motivational standpoint works, but does very little to improve skill development. In fact, some skill experts and coaches feel it may actually hinder skill development, as kids and coaches worry more about winning the 5th grade St. Augustine Turkey Classic Tipoff than actually getting better.
Of course, you could remove the scoreboard and forget about wins and losses. However, our fear would be that the players' motivation and excitement would evaporate and in turn, interest would dwindle.
Instead, it'd be smarter to improve the game so that:
– The players get more quality repetitions during the game. Repetition is the KEY to skill development. The more shots you take, the better shooter you become.
– The game is faster. Watch a small school high school basketball game (Gillespie), and compare it to a large school high school game (Edwardsville). The difference – the speed of the game. It's the same difference you'll see in a DIII college basketball game vs. a DI college basketball game or a DI college basketball game vs. a NBA game. Basketball is a game built on speed, and we're not just talking about running speed. How fast can a player make a decision? How fast can he react to a crossover? How fast can he find the open teammate? The ability to make decisions in a blink of an eye is critical.
– The game is more intense with less time spent walking/running, and more time spent engaged with your opponent. This goes hand-in-hand with the speed of the game. Again, you'll see the intensity of the game increase as the level of basketball increases. It's also evident late in the 4th quarter of a close game. The team that handles the pressure/intensity better usually wins.
In other words, we'd create a game just like the Brazilians did for soccer, a game that many feel is one of the primary drivers behind their success.
FASTketball – The difference
The rules are almost identical to basketball. There's a scoreboard. There are 4 quarters. There's a ref. A travel is a travel. A foul is a foul. A win is a win and a loss is a loss.
Three big differences though:
1. It's full court but the court is only 35'x70′.
Less wasted space results in a faster, more intense game. Why on earth would we have 10 year-old kids play on the same size court as high school seniors? There's too much space, and as a result, the kids learn to play at a pace that doesn't translate into success at the high school or college level.
2. It's 3 on 3.
How many shots does the 4th or 5th best player on a team get during a game? 4, maybe 5? If repetition is the key to improving, how much is that kid going to improve over the course of the season? Compare that to the best player on the team who may take 15-20 shots in a game. Is it any wonder why the best player continually gets better while the 4th and 5th best players stay stagnant? Over the course of a 30 game season, that's a potential difference of 450 shots. In Fastketball, the player's odds of shooting goes from 1 in 5 to 1 in 3. Not bad. Plus, because the court is smaller and the game is faster, there are more possessions and more opportunities to take shots. So not only does his odds improve, the overall quantity of shots increases.
3. The rims are lower.
Again, the closer the game mimics the actual game you'll see at the high school and college levels, the better. A lower rim does three things: 1) It makes it easier to score. Thus, final scores will more closely resemble the final scores you see in high school basketball. You won't see the typical scores you see in 4th grade 5 vs. 5 basketball of 12-4. 2) It makes the game more exciting for the players and the fans. A more exciting game keeps kids interested and coming back for more. How boring would it be if you didn't score a single basket but had to run up and down a court for 24 minutes? 3) Shooting mechanics aren't affected as much. Watch a 4 foot kid shoot at a 10 foot rim. Look at his shot form. The ball drops down to his knees as he propels the ball to the rim with little resemblance of an actual basketball shot that you'll see in the middle school and high school levels. That form is repeated again and again and again until eventually it becomes a habit that a kid has to break once he hits middle school. Why not learn the right way to shoot while he's young? Imagine how much better of a shooter he'll be.
And that's FASTketball in a nutshell. Don't you think that's not only a better way to develop a child's basketball skills but also a better way to play the game?
The 1st Annual FASTketball Tournament
The details:
Where – Ageless in Gillespie (103 North Jersey Street, Gillespie, IL 62033)
When: March 3-5th
Who: 2nd – 8th grade boys and girls
Cost: $25 per team, 3 game guarantee
If there are players from different grades, your team will be in the bracket with the oldest member of your team.
Teams due by March 1st.
You can pick up a registration form at the front desk of Ageless or download one by clicking here: FASTketball Registration Team Form. 
If you have any questions, please don't hesitate to contact us at BeTheChange@ageless-fitness.com or call the gym at 217-839-2484.