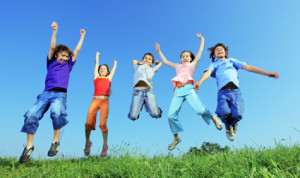 This has been THE biggest request from our members, and we think we've finally been able to remodel the gym enough to offer a solution.
No babysitter? Struggling to get to the gym because you can't find someone to watch your child. No worries.
Starting this upcoming Monday, the 25th, we will be offering daycare at Ageless from 5pm-7:30pm Monday – Thursday. Children 3 years of age and older are welcome. It's $2 for the first child and $1 for each additional child per family. Our instructor is CPR certified and has taken the babysitting course at Staunton Community Hospital.
We are testing this throughout the end of January and the entire month of February. If enough members utilize it, we'll keep it and possibly expand hours. However, at this point in time, children are only allowed in the gym during the hours we offer daycare. At all other times, children must sit at the front desk or on the benches outside of the spin room. Due to liability issues, we cannot have children in the gym unsupervised.
Side note: One or two members have asked why we have an additional fee for daycare. No one likes extra fees, and we've tried to do everything possible to make Ageless as affordable as possible. We've never had an initiation fee like most gyms, don't have an additional 24 hour access fee, and have stopped charging additional fees for all of our classes including spinning. I honestly don't know if you'll find another gym in the area that offers as many services (classes, gym access, equipment, etc.) as we do at the prices we do.  By adding daycare, we're adding additional expenses (labor, insurance, cost of remodel, cost of toys, etc).  Unfortunately, we have to be able to cover those additional expenses, and the only way we can do that is with a fee for the service. We contemplated increasing our gym membership prices and including that in everyone's membership, but that wouldn't be fair to the members that don't utilize the service. This was the best solution we could come up. Compared to the cost of a babysitter for 1-2 hours, it's still extremely cheap.