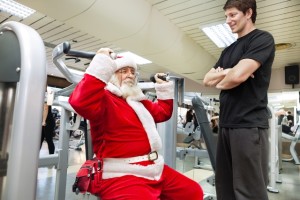 The Ageless elves have been working hard over the past few weeks to make this Christmas season extra special for our members. Apparently, quite a few of you were on Santa's nice list this year. Surprising, right?
So just what have our vertically challenged hooligans been working on for December? Quite a bit. We have new classes, a free Zumba workout with Dimmy, and a handful of events for children of all ages. Plus, our 12 Days of FITmas contest starts December 1st. And best of all, the renovations in Gillespie should be done, and the renovations in Staunton should be starting!
25 Days OF FITmas Challenge at Gillespie and Staunton
Get back into the swing of things. The challenge is simple. Visit the gym at least 12 times between December 1st and December 21st and receive a limited edition Ageless Love – Laugh -Learn -Lift. t-shirt at our special Christmas workouts on Monday December 21st.
When: Starts on December 1st and ends on December 21st at 12:01 am
Where: Ageless – Gillespie and Staunton
How to Play: Register at the front desk before November 28th. We'll add your name to Santa's list. All you have to do is add a sticker next to your name after every workout. Sophisticated, I know, but if there is one magical thing about this time of year, it's Christmas' ability to awaken our inner child. So why not use the same attendance chart we used in 1st grade.
Your FITmas Present: Get 12 stars, and get a limited edition Love-Laugh-Learn-Lift t-shirt.
Zumba Night
Zumba has been such a success at Ageless in Staunton that Dimmy, our dancing sensation, is going to offer a FREE class on Wednesday, December 2nd at 7pm in Gillespie for members and non-members. If he gets the response he's hoping for, it will be a permanent class in January. So please spread the word. And if you're on the fence about, just talk to some of the Staunton members. They love it!
Check out the entire class schedule by clicking here.
Glokickathon
We love GloKick so much that we are going to dedicate two hours on a Friday evening for dancing, snacks and some Christmas fun. The event is $25 to attend and will take place in Staunton on Friday, December 4 from 7-9pm.
Guests will receive a free longsleeve shirt after paying their registration for the event and are asked to bring a "white elephant" gift (under $10 in value) and a snack for the class to try during a break. Hopefully some of you are better in the kitchen than others!
PowerBox
Pete's offering a new class on Monday nights at 5:30pm in Gillespie called PowerBox. It's the perfect blend of boxing, music, and body weight exercises – all done in the dark. It's fun. It's exhilarating. And most importantly, it's a GREAT workout for all ages and fitness levels. Best of all, his first class on December 7th at 5:30pm in Gillespie is FREE for members and non-members. Check out the entire class schedule by clicking here.
*No gloves needed.
Jr. Spartacus at Ageless at Gillespie or Staunton

(Boys and Girls 5th – 8th grade)
It's baaaaacccckkkkk! Strength, speed, agility, and endurance training all bundled up into one 45 minute workout. Put down the video games, turn off the TVs, and throw away the phone. No matter what sport your child plays, the non-stop action in this class will be sure to not only keep him/her entertained, but also improve his/her performance on the field. Plus, it gives your child a huge advantage when he/she starts strength training in high school.
Where: Ageless in Gillespie or Staunton
(You must select one location on your form. Due to size limitations, your child will only be allowed to go to one location.)
Who: Boys and Girls 5th- 8th Grade
When: 5pm – 5:45pm on Tuesdays (December 8th, 15th, 22, 29th)
Cost: $20 per child
Misc: Register by December 3rd. Due to space limitations, class size is limited to 20 kids.
Download your registration form by clicking here: Jr Spartacus Registration or pick one up at the front desk at either gym.
Kids' P.E. at Ageless at Gillespie
(Boys and Girls 3-6 years of age)
With Santa visiting soon, the little ones will barely be able to contain their excitement. Lucky for you, we have just the class to burn off a little extra excitement. At Kids PE we will be doing different games, activities, crafts, exercises, obstacle courses, and sports. We guarantee the kids will love it
Dates: Dec. 3, 10, and 17th
Ages: Boys and Girls 3-6 years of age
Times: 6-7:30 (You will be contacted with your child's time by next Wed. at the latest) If a certain time works best, please note it on this form. Sessions will be 45 minutes long-either 6-6:45 or 6:45-7:30.
Cost: $15.00
Location: Ageless in Gillespie
Misc: Parents can drop off their child or stay and watch. If you have any questions, please contact Corrie at 217-313-6465 or Ageless at 217-839-2484.
Download your registration form by clicking here: Kids PE Registration Form  or pick one up at the front desk at either gym. Please register by 11/25.
Basketball Skill Development at Gillespie
(5th -7th Grade Boys and Girls)
Basketball is baaaaaack, and it just wouldn't be right if we didn't offer a camp….
"Pistol" Pete Visintin will be hosting an Ageless Youth Basketball Skills camp in December for boys and girls 5th -7th grades. The camp will focus on the FUNdamentals of basketball, including shooting, dribbling, and passing.
This class will be limited to 15 participants so that each child receives as much 1-on-1 attention as possible.  Local high school athletes will be helping out.
Where: Ageless in Gillespie
When: Monday evenings at 6:30pm (December 7th, 14th, 21st, and 28th  )
Who: 5th-7th grade boys and girls
Cost: $25
Deadline: December 3rd, limited to 15 participants
Download a registration by clicking here: Basketball Skill Registration or pick one up at Ageless in Gillespie or Ageless – Staunton.
New Member Pricing in January
 The following memberships will change in Gillespie and Staunton starting January 1st.
The high school and college discounts will be replaced with a under 24 years of age discount at $20/month rate
Senior citizen discount of over 65 years is $20/month rate
EMS/Fire/Police is $20/month rate.
Otherwise, our rates will stay the same, you'll still have access to both gyms, and all of our classes are free with a gym membership, including spin.
Merry FITmas to all!!!!!!!