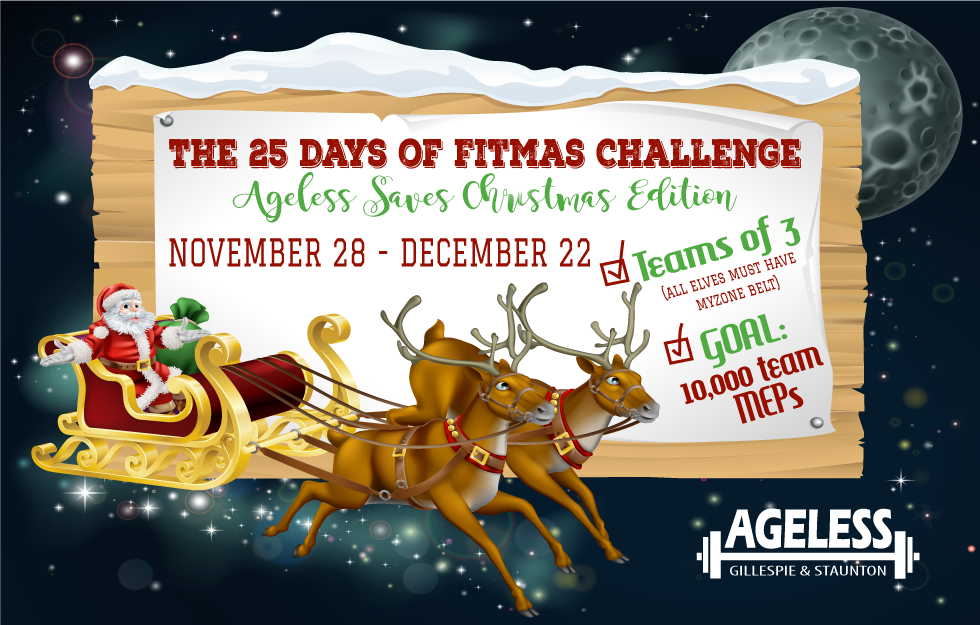 Last week the lead sled engineer at the North Pole contacted us about an idea he had for an alternative fuel source. Overly excited (we're talking almost to the point of high pitch screaming), Norman told us it's brand new, completely green, AND, in addition to saving the planet, it directly improves the health of those that create it. "Fracking" awesome, right?
What is it, you ask? Drum roll please…… MyZone MEPS.
Yes, that's right. Norman told us he can power Santa's sleigh with MEPS. Unfortunately, due to the harsh climate in the North Pole, they can't produce enough of it to get the sled to the U.S. this year. So if they can't get more MEPS, it looks like we can all expect some coal this year in our stockings.
Luckily, he asked us if the Ageless elves could save Christmas this year. Of course we told him we would.
So here's the deal. Because Santa enjoys his cookies, we're going to make this a TEAM challenge. The sled needs a lot of MEPS. Between all of the presents and the extra winter weight the big guy has put on, it's heavy.
The 25 Days of Fitmas Challenge – Ageless Saves Christmas Edition
When: November 28th – December 22nd
What: Teams of 3, all elves must have a MyZone belt
Goal: 10,000 total team MEPS starting at 12:01am on November 28th thru 11:59pm on December 22nd
Prizes: All participants on teams that reach 10,000 MEPS will get a FREE limited edition Ageless t-shirt
All teams that reach 10,000 MEPS will be added to a drawing for the grand prize, a gift certificate for your favorite local diner.
Registration: Sign up your team at the front desk in Staunton or Gillespie. Please include your t-shirt size too. If you don't have enough for a team, still sign up. The deadline to register is November 27th.
Now, start stretching and get ready to save Christmas.