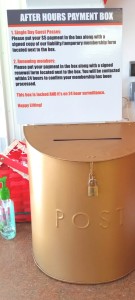 Hip, hip, hoorah. No more leaving payments underneath the keyboard during non-staffed hours. We officially have an after hours payment box. It's on the front desk next to the pillar.
If you received a renewal letter from us, you can either bring it in during staffed hours or leave it in our locked payment box. We'll contact you with 24 hours to confirm we received your payment, and that your membership will stay active.
If you bring a guest to the gym, we have a 1 session membership/liability form that needs to be filled out. Include that form with your payment and use one of our envelopes located next to the box.
The box is locked, and we have one of our 24 hour surveillance cameras pointed directly at it. It's also booby trapped so don't get any ideas.