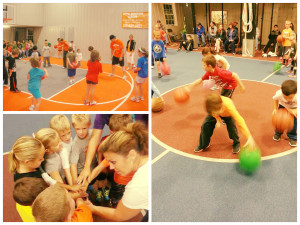 Hold the phone. Someone call Bobby Knight and Dickie V, and get them to Ageless in Gillespie because the real March Madness is about to start.
Lil' Dribblers is back for round 2, and this time there's going to be a good old fashion March Madness tournament during the last week.
Smaller court + lower rims + 4 players per team = Raining Buckets!
The Details:
When: Thursdays from 5:30-8pm, March 10-31st (4 Weeks)
Who: Boys and girls K-4th grade, 4 vs. 4
Where: Ageless in Gillespie
Cost: $30, includes an Ageless March Madness t-shirt
Instructor: Terry Allan
Deadline is Saturday, March 5th.
Game time and teams will be determined after March 5th. All parents will be notified via telephone by Monday evening, March 7th.
You can pick up a form at the front desk at Ageless in Gillespie or Staunton or download it by clicking here: Lil Dribblers March Madness and mailing it in.