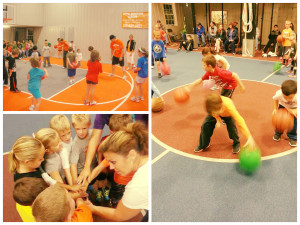 It's basketball time!
Little Dribblers is back. It may look like chaos, but we promise your child will love it! It's full of laughs, smiles, and even a little sweat. You may even see a couple of made baskets too.  Last year we had over 100 kids come through our Lil' Dribbler's program. This year, we're expecting even more!
The Details
Who: Grades K-4th
When: 6 weeks, January 16th – February 20th
Day: Saturdays, 10:30am – 3:30pm
Price: $40 for 6 weeks
Where: Ageless in Gillespie
Instructor: Terry Allan
Forms are due by January 13th.
Info:
Someone from Ageless will call you with your child's time by January 13th. This is a non-competitive environment to encourage children to enjoy the game. The baskets will be lowered and all kids will have equal playing time. Our goal is to promote social development and learn the game of basketball. This is for fun only!
If you have any questions, please do not hesitate to call us at 217-839-2484 or e-mail us at pete@ageless-fitness.com.
If you know a child that would love to play but currently cannot afford it, please do NOT hesitate to contact us.
How to register:
Pick up a registration form at the front desk of Ageless in Gillespie or Staunton or download one by clicking here: Lil Dribblers Registration 2016