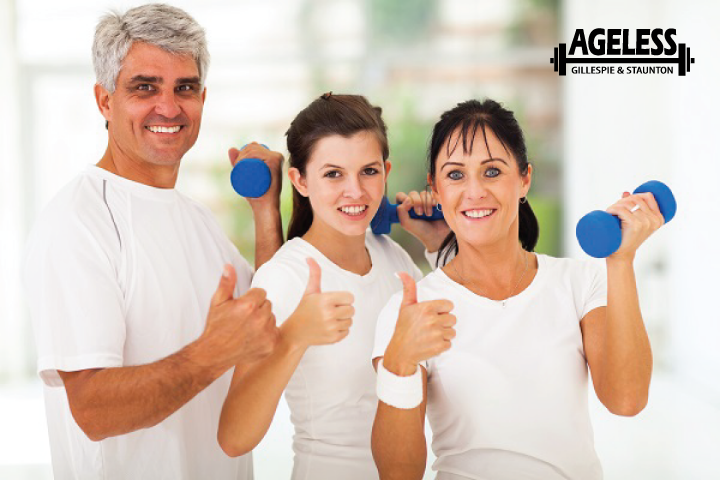 The AGELESS experience is like no other fitness experience. The community of the Ageless team and members is a supportive group that care about your wellness success. Over the years, our loyal members have shared feedback on what makes Ageless great and the part we love, how we can make it even better.
With that in mind, we're introducing a new family-centric membership plan to allow the whole family to participate in everything Ageless has to offer.
This membership includes:
2 adults (over the age of 24)
2 dependents between the ages of 13 and 24 years that live in your household
Access to both state-of-the-art Ageless facilities
24/7 access to anyone 18 years or older (with keycard)
5 a.m. – 10 p.m. access to 16 and 17 year olds (with keycard)
Entry to over 20 free group classes each week
Free towel service
Qualification for Ageless badges
Free wifi
Free daily locker usage
and so much more.
Rates:
Monthly budgeting option: $75 per month
Annual budgeting option: $900 annual fee
Add additional dependent under the age of 24: $5/per month
Payment options:
An account holder must be established on family memberships and the account holder is the only person able to make any changes to the family membership.
The account holder is responsible for full payment of the family plan.
We accept cash, checks, debit/credit cards, and bank drafts as valid payment for membership.
The family membership plan will renew automatically each month to the account holder's payment method.
Memberships are non-refundable.
Family memberships may be canceled upon receipt of written notice at any time. Cancellation fees do not apply to family memberships.
Ageless is a community partner building involvement into youth development, healthy living and social responsibility. We are excited to expand our affordable membership plans to families. As always, thanks for being a part of the "Ageless experience".