The ghosts and goblins have been summonsed. Race day is almost upon us.
But before we get into the spooky details of the race, we first wanted to thank you again for participating this year. We set a goal to raise $2,000 for the GHS SkillBuilder's Club, and thanks to you, as of yesterday, we officially hit our goal. Thank you!
As far as the race is concerned, here is what you'll need to know:
Our goals: We had two goals for this race. One, to raise as much money as we could for the GHS SkillBuilder's. And two, we wanted to put on a fun, non-competitive race for the entire family. To the winners and serious 5kers, we apologize in advance for our laissez-faire attitude toward competition for this race.
Parking – Parking will be slightly chaotic. We're expecting around 200 people for the race (runners, children, volunteers, and even a few ghosts). Making matters worse, we're also using a starting line for each race so the fun run doesn't interfere with the 5k. Thus, the majority of the Ageless parking lot will be off limits. The UCB mortgage center lot will be the closest parking available. You can also park on main street. No matter where you park, you shouldn't be more than a block or two away from the starting line. Think of it as a pre-race warm-up if you will.
Arrival Time: We will be starting the races at 5:30pm. The 5k will start a few minutes before the fun run. We're asking that you arrive between 5:00 and 5:20pm so you can register and pick up your free t-shirt.
What to wear: As of now, it looks like there could be some rain in the morning, but by 5:30pm, it should be cleared out. It's almost the perfect weather for running. Temperatures are expected to be in the mid to high 50's so please dress appropriately. Of course, costumes are encouraged but not required.
Where to register: When you enter the gym parking lot, you'll see a white fence on the east side of the building by the marshmallow man. Go through that and enter through the double white doors. There will be 3 registration tables inside. Find the table that corresponds to the first letter of your last name and pick up your t-shirt. Bathrooms will also be in the gym. Free bottled water will be at the Ageless tent outside.
Kids' Activities: There will be tables near the registration table inside the building with glow necklaces, bracelets, and glasses. They are free. Please grab some "bling" for your kid(s). We also will have 4-6 candy pit stops on the 1 mile fun run. Please remember to bring a bag with you on the course if you plan on trick or treating. If you preregistered for the race, your t-shirt will come in a Halloween bag. Free S'mores will be available after the race in our parking lot for everyone.
Starting Lines: After you pick up your t-shirt, if you're running the 5k, please go to the Ageless inflatable arch in the parking lot. If you're running the 1 mile fun run, please go to the pirate tunnel in the parking lot. The 5k will start right at 5:30, while the 1 mile fun run will start about 5:35pm.
Last Minute Runners: If you know someone that hasn't signed up, we will be accepting new runners up until 5:20pm the day of the race. We may even have a few extra t-shirts too.
As always, if you have any questions, please email us at BeTheChange@ageless-fitness.com or call us at 217-839-2484.
And for those of you that would like to see the route ahead of time, here is the 5k route. You'll run the "lap" twice.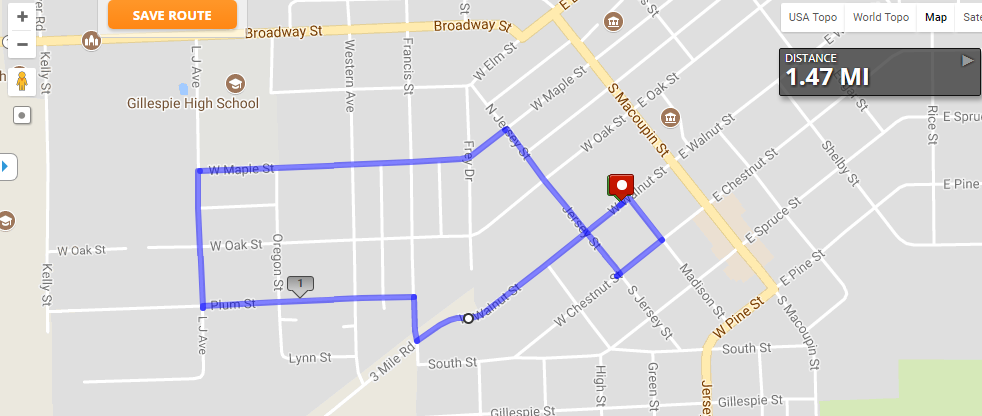 Here is the 1 mile fun run. It's a "down and back" route.