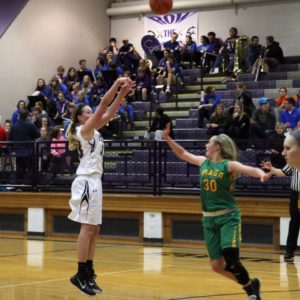 Ladies, the offseason is here. If you're expecting to separate yourself from the competition and be THE player on your team next year, the time is now. Take advantage of this opportunity to train with one of the most talented and hard working high school basketball players this area has seen.
Abby Brockmeyer, all-conference, all-area, all-state, and Division I prospect, will be holding small group basketball skill sessions this summer at Ageless beginning June 1st. During the two weekly sixty minute sessions, Abby will use the same drills and progressions we've used with her over the last 4 years at 4th Quarter Training to teach fundamental offensive moves like the crossover, hip swivel, and triple threat jab step. The camp will focus on dribbling and shooting, as well as one-on-one game-like moves so by the end of the summer, every player that attends will be an offensive threat every time she catches the ball.
Side note: Over the last 4 years, I think I've learned as much about basketball from Abby as I've taught her. If you have a young girl that loves the game of basketball, Abby is the perfect role model. She's humble, hard working, always has a smile on her face, and has a quiet confidence that exudes strength. Don't be fooled by her "natural" talent. She has earned every award she's won.  
Spots are limited, and will be filled on a first-come-first-serve basis. We will not be allowing more than 8 girls per session. 
The details:
Dates:  Twice weekly Monday and Wednesday afternoons from 1-2pm or 2-3pm starting June 1st – June 27th (8 sessions)
Ages:  Girls 6th grade – high school (for the 2016-2017 school year)
Cost:  $49 per month
Where: Ageless in Gillespie
Misc: Only 8 spots available per session (1-2pm or 2-3pm), filled on a first-come-first-serve basis. Members in the 1st session will get first opportunity at joining the second session in July.
Focus: Offensive basketball skills including the crossover, triple threat, and hip swivel
Registration forms are due by May 27th.
You can download a form here: Printable Registration Form and mail it to the address on the form, or you can pick up a form and drop it off at Ageless in Gillespie. Please remember to select a time: 1-2pm on Mondays and Wednesdays or 2-3pm on Monday and Wednesdays.