If there is one class that almost every young child needs, it's tumbling. Nothing we offer teaches body awareness and control, two critical components in every sport, better than tumbling. On top of that, tumbling's ability to improve a young child's relative strength is vastly under appreciated. It's not surprising that girls are almost always more advanced than boys at young ages.  And did we mention it's extremely fun?
Click here for upcoming events at the gym.
Loni Nicole Manalia – Coach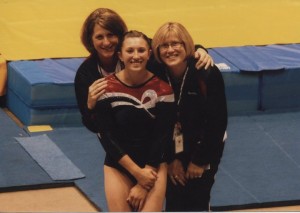 Loni Manalia, a student-athlete at Illinois College, has been tumbling her entire life. Winner of numerous regional and national awards, Loni brings her love of tumbling to Ageless. It doesn't matter if the student is brand new to tumbling or has years of experience, Loni can help. And best of all, she makes it fun.