The 4th Quarter Philosophy
We have 4 simple rules:
Fundamentals win championships.
Repetition is the key to mastery.
Quality over quantity.
Hard work beats talent.
The Details
When: Two 60 minute sessions per week in groups of 4 or less.
Who: 8th grade – high school players interested in playing collegiate basketball
Cost: $99 per month (8 sessions)
Limitations:  We are currently full. We are taking applicants for Spring of 2015. Due to the demand, we are planning on having more workouts this offseason led by some of our more advanced players. Details will be announced in early February.
How to register: Please e-mail us at tjallan30@gmail.com or call the gym at 217-839-2484 to get on the waiting list.
Coaches
We do offer training sessions at your high school. If you're located within 40 miles of Gillespie, IL, we offer team training sessions for $119 per session for up to 10 players. We'll just need basketballs and a court. We'll bring the medicine balls, mitts, pads, and our other tools. Please contact tjallan30@gmail.com if interested.
Training Session Template
Great players are great because they've mastered the fundamentals of dribbling, passing, and shooting. So that's what we teach. And we teach them over and over and over again until they become automatic. The majority of our training philosophy is built upon the works of Dr. Carol Dweck and Daniel Coyle.
Some of those principles include:
Small wins create big wins.
Players grow when they train on the edge of their abilities.
There is no such thing as naturally gifted basketball players. Hard work, grit, and the ability to accept and learn from failure determines success.
Quality trumps quantity.
Perfect practice create habits. Habits create automaticity.  Automaticity creates speed. Speed creates a competitive advantage.
1st Quarter – Fundamental Shooting 10 minutes
Includes various shooting drills that focus on technique. We call this "greasing the groove."
2nd Quarter – Dribbling 25 minutes
Includes 1 ball, 2 ball, stationary, and moving dribbling drills. All drills are done with 30 seconds of work and 5 seconds of rest. The crossover is heavily emphasized.
3rd Quarter – Signature Move 25 minutes
Includes various drills that focus on the the crossover or jab step progression with and without defense.
4th Quarter – Conditioning 25 minutes
The perfect blend of conditioning drills and shooting drills. This is the quarter that creates champions. Are you mentally and physically tough enough to win a ball game down the stretch?
What do some of our athletes say?
Nick said Allan helped push him to a higher level to get him ready for varsity play this year. 'He said if I wanted to play varsity, I had to be able to handle the ball more,' Nick said. 'And I needed to be a knock-down shooter. T.J. comes to all of our games and supports us. He works with a lot of guys on the team. He's helped Evan and me a lot.' Nick Price

Rising Prices spark Gillespie basketball success
'It's made me so much better, it's unbelievable,' she said. 'At first, I almost didn't want to go. But every since I went there, I've improved so much. We dribble so much (at 4th Quarter Training), then work on form shooting and shots off screens. Anything and everything.' – Abby Brockmeyer,

Brockmeyer makes big impact for Litchfield girls
'In our training sessions, T.J. will have us shoot free throws after about an hour of training,' Evan said. 'He says shooting free throws is toughest when you're tired. But he also says free throws are mostly mental. It's all about mental toughness.' – Evan Price,

Rising Prices spark Gillespie basketball success
Officially Part of Alan Stein's Stronger Team Nation…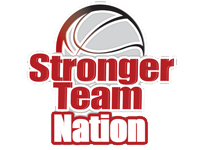 Check out of a few of our articles our trainers have written for sites like Ihoops.com and Stack.com below:
Ball-Handling Drills to Improve Your Results in Half the Time – Stack.com
The Ultimate Pre-Game Basketball Meal – Stack.com
Basketball Players: Build Muscle With Nutrition – Stack.com
Perfecting the Eurostep From the Gym to the Court, Phase 2: Force Propulsion – Stack.com
Three Simple Cues to Make You a Better Shooter – Stack.com
Perfecting the Eurostep From the Gym to the Court, Phase 1: Force Absorption – Stack.com
Creating the Ultimate Crossover: 4 drills for perfection – Stack.com
Should Basketball Players Bench – Stack.com
Basketball Shooting Form: Are you making these two mistakes? – Stack.com
From the weight room to the hardwood: Creating the ultimate crossover. – Stack.com
Fixing Your Basketball Shot: Using Shot Analysis – Stack.com
3 Crossover Drills I love – Stack.com
Making the Most of Your Preseason Basketball Training-Stack.com
3 Alternatives to Squats -Ihoops.com
Why More Options Equal More Success – Ihoops.com
 Is the Bench Press Good for Basketball Players? – Ihoopscom
3 Best Exercises for the Vertical Jump – Ihoops.com