It's time. We're finally transitioning to MindBody for our online class registration in Gillespie (Staunton has already switched). We will no longer be using Facebook to register for classes starting Sunday, September 18th.
Why the change? Convenience. Most businesses are blocking Facebook, making it almost impossible for some of our members to register for classes. Plus, we're currently registering daily for classes, which is inconvenient for most. With MindBody, you'll be able to log on from a desktop, Ipad, or via the app on your smartphone. And best of all, classes registration will be active 48 hours before each class. You'll also be able to see your purchase history, when your membership is due, and any gym information via the MindBody portal.
There are only two classes you will need to register online for – Flow and spin. Yoga, the Coffee and Curls Bootcamp, and Mo Flow in Gillespie will NOT require online registration.
Step 1

Contact us to get your username and password for your MindBody login. You can message us on Facebook, send us an e-mail at BeTheChange@ageless-fitness.com, or stop by the front desk before or after class. It only takes a few seconds. You must get your username and password BEFORE September 18th.
If you remember the e-mail address you gave us, you can visit our MindBody portal by clicking here and creating your own account without our help. If you already have an account but can't remember the password, just click the "forgot password" link.
Step 2
If you have a smartphone, download the MindBody app. Once you download it, you'll only need to login once. The first time you use the app, you'll need to find the "explore" link and search for Ageless-Gillespie or Ageless-Staunton. Once you find our gym, click the heart icon at the top of the screen to save our gym as your favorite. That will streamline your class reservations.
If you don't have a smartphone or won't have access to one when the classes go live, you can still visit our site www.ageless-fitness.com and register via a desktop or tablet. Simply look for the MindBody login link at the top of our page. We also have another link to it on our class schedule page. See the picture below.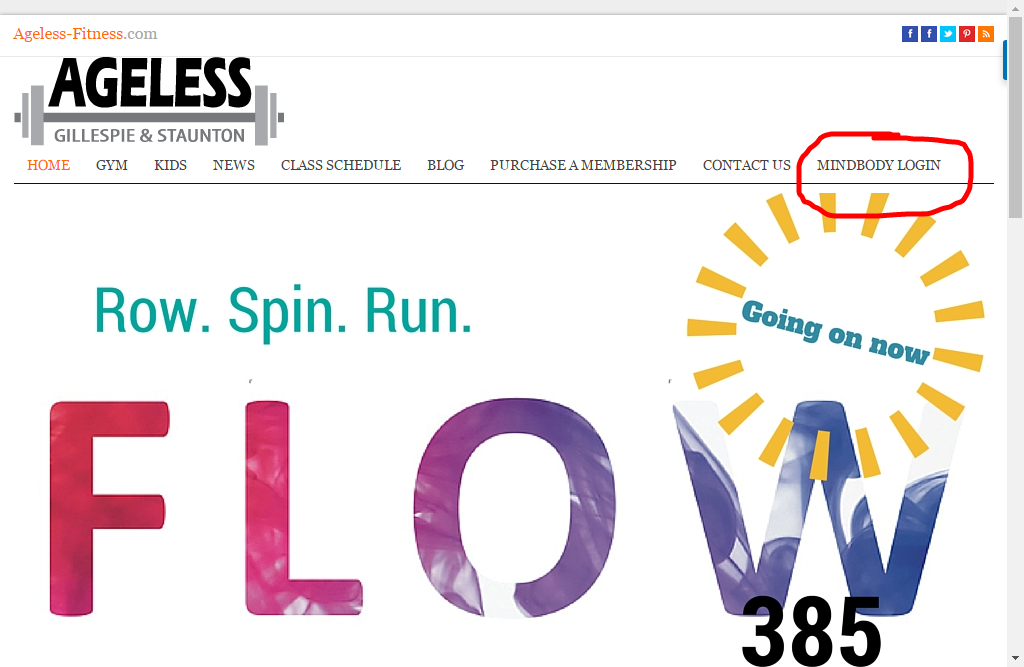 Step 3
Registration will go live 48 hours before the DAY of the class. So, Monday's 6pm spin class will be live on Saturday at 12:01 a.m.
If the class is full, make sure you still register for it because you'll be added to the sub list. If someone ahead of you cancels her reservation, you will automatically be added to the class and notified via e-mail.
You will be able to cancel reservations up to 30 minutes before the class starts. Any class cancellations sooner than 30 minutes will be considered a "no show" and charged a $5 fee.
Step 4
When you attend a class, we'll have an Ipad ready for class check-in's. Simply find your name on the class list and swipe. That lets MindBody know you attended the class, and you won't incur a $5 late fee. Remember, this will only be used for Flow in the evenings and spin in the mornings and evening. You will NOT have to do this during Mo Flow, Coffee and Curls Bootcamp, or yoga.
Summary
So in a nutshell – Get a MindBody account before the 18th, register for classes via Mindbody 48 hours before the day of the class, and check in at the class via the Ipad.
With anything new (or change), there will be bumps in the road. Once you get used to MindBody, which is easy to use, it will be a breeze. Staunton has already made the transition, and they agree that MindBody is much easier and more convenient than Facebook. Almost 90% of their members use the app to register for classes.
As always, if you have any questions, please let us know.