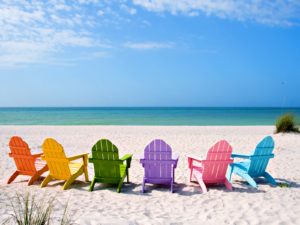 Summer is here…. Finally!
Because each season has its own ebb and flow,  temporary changes at the gym are inevitable.  The following changes will go into effect at Gillespie on June 6th, and remain in effect until August.
Staffed Hours
Staffed hours will remain the same for Monday – Saturday mornings from 9am-noon. The evening shift Monday – Thursdays will now be from 4-7pm, NOT 3-7pm.
Daycare
Because most parents who were utilizing our daycare service in the gym also have little ones play summer sports, we are canceling our daycare services at the gym for the summer.  However, members may still be able to bring children to the gym. The cost is still $2 for the 1st child and $1 for each additional child. Out of respect for our members and the safety of the children, children must stay in the children's room (which will be the existing spin room, more on this below) at ALL times. This will be unsupervised and choking hazards may be present so please use at your own risk. Because our new Flow 385 class will be starting soon (and we will have equipment in the basketball area now), children will not be allowed to be in the basketball area.  The children's room is the ONLY area children are allowed. No exceptions.
Spin Room
Unfortunately the existing spin room is just too hot. I guess all of you are just working too hard and creating too much heat. Thus, we've decided to move the spin room back to the old spin room in the basketball area. It's bigger, and will have adequate A/C to keep it cool. The existing spin room will be converted to a small children's room. Reid's Heating and A/C will be updating the A/C, and we should have the move ready by next week.
June Class Schedule
We're late, but we're almost ready. We've been waiting on the treadmills for the new Flow 385 class, and 5 of the 6 were just upgraded on Friday. We're running  a few tests classes this week, and pending any last minute disasters will be ready to launch next week. Look for the June schedule to be released on Wednesday or Thursday and a post about the heart rate monitors soon.