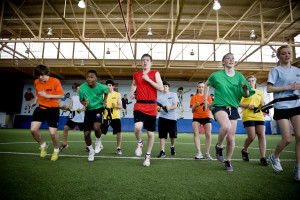 Summer is almost here. If your kid is anything like I was when I was in school, by the second week of summer, you'll be hearing, "I'm bored."
Fear not.  We're here to help you keep those little whippersnappers entertained and possibly even exhausted.
Jr. Spartacus is 60 minutes of non-stop action – flipping tires, pushing sleds, slamming medicine balls, jumping over boxes, tossing around battling ropes, and possibly even evading a few dodgeballs. It's everything kids should be doing but aren't doing.  It's great for athletes and non-athletes.
The details:
When: Tuesdays and Thursdays 11am – noon starting June 2nd
Where: Ageless in Gillespie
Who: Middle School and High School boys and girls
Cost: $20 per month (free for current high school members)*
*This is a class so any current member will have access to this class for free.
Stop by the front desk to register your child, or you can download a form by clicking here:  Jr Spartacus Summer Registration and mailing it to the address on the form. Form due by May 27th.