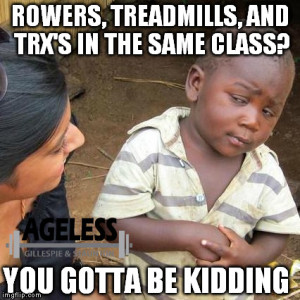 It's no secret that spinning is by far our most popular class. It's been almost two years since we've introduced it, and classes are still filling up within 10 minutes of registration. It's such an addicting sweat that we have 30-40 members religiously attend at least 2 classes weekly.
We're happy, but we're not satisfied. 30-40 members is only 10-15% of our membership. We need another addictive class for those that either don't like spin or haven't been able to reserve a bike. We think we found it. In fact, we're so confident in it, we invested $20,000 in it.
Welcome to 385.
We've spent the last 8 months researching the latest fitness trends, visiting other gyms, and testing various workouts to find a fun, high energy class that's guaranteed to burn calories and keep you coming back for more.
Ladies and  gents, Batman (spin) now has a Robin. If you enjoyed the spin and row combination class we offered awhile back, you'll love this. It's 10x more addicting, and has all of the same qualities that make spin so popular:
– Anyone can do it. If you can walk on the treadmill, you can conquer 385.
– It's easy to learn. Like spin, there is some variety in the workout, but the overall template stays the same so you know exactly what you can expect each class.
– YOU determine how hard you make the class. There are no required repetitions or speeds. You pick the intensity so the class fits your fitness level. My grandma and Amber can be in the same class, and both get a GREAT workout.
– It's high energy: great music, a great sweat, and great gym buddies.
– It's primarily cardio-based so you're guaranteed to sweat and burn a lot of calories. Plus, it won't interfere with your resistance training.
– It uses the real-time heart rate monitoring system so you can see exactly how many calories you're burning every second of the class.
There are just two major differences between 385 and spin.
1. 385 will use treadmills, rowers, and TRX's, kettlebells, or body weight exercises.
2. 385 is more gender neutral than spin. For some reason most guys just don't like to spin even though 95% of of us need more cardio in our resistance training-dominated routines so we can get that summer six pack. Because this class includes rowers and treadmills, men will find this just as appealing as women. It definitely adds a little excitement to cardio.
So when is 385 launching?
Soon. We don't have a specific date yet. The treadmills have to be cleaned up, the rest of the rowers have to be delivered, and the MyZone real-time heart rate and calorie burning system has to be set up. We're hoping 30 days from now.
Until then, stay tuned. We'll continue to post more information on the class as we get closer to the launch date.