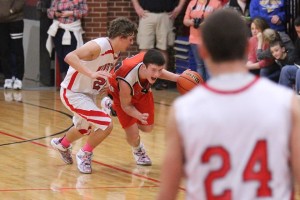 Photo courtesy of Jan Dona and the Coal Country Times
It's back, and it's even better than last year. Sign up and let us help you improve the deadliest move in the game of basketball – the crossover.
The Crossover Camp will be 60 minutes of non-stop drills and action. Each session will be built on a progression of dribbling drills we've used over the last 5 years at 4th Quarter Training. You will not find a more in-depth camp on the crossover. We start with drills that focus on technique and progress to drills that add speed and power. We personally guarantee your child will walk away from this camp with a much improved crossover.
The high school group will be led by Evan Price and the 6th-8th grade group will be led by T.J. Allan.
Last year, the 20 spots were filled in 72 hours. We expect the same this year.
The details:
When: Monday evenings at 7pm-8pm, March 7th – March 28th (4 weeks)
Who: 6th grade – high school (for the 2016-2017 school year)
Where: Ageless in Gillespie
Cost: $25
Instructors: Evan Price and TJ Allan
Misc: Limited to the first 20 participants. Spots are filled on a first-come-first-sever basis.
Pick up a form at Ageless in Gillespie or Staunton or download one by clicking here: Killer Crossover Form