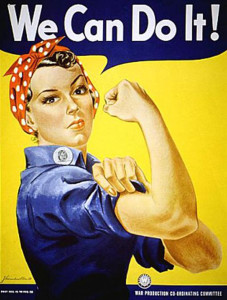 What is it about lifting 100, 150, or even 200 pounds of pure iron off the floor that makes it intoxicatingly beautiful? Is it the fat loss and muscle that comes with it? That's definitely awesome, but I don't think so. Is it the health benefits, the strong bones and heart? Appealing, but I still don't think so. It's something more. It's deeper.
The real reason women fall in love with the iron…. It's empowering. The physical and mental strength that develops from resistance training satisfies one of our most primal urges – the quest for power and the confidence that comes with it.
That's exactly why Amber and T.J. will be starting a new class in October called StrongHer. So many people have told us that they wanted to learn how to lift like Amber but didn't know where to start. This is our solution. It's specifically designed to teach women how to resistance train – squats, deadlifts, pushups, chinups, high box step ups, hip thrusts, lunges, and a handful of other exercises.
A word of warning first…
This is not necessarily a class. It's more like a club. If you need a "rah rah" instructor, this class is probably not for you. If you have injuries that limit the exercises you can do, this class is probably not for you. If you don't think you can commit to two workouts per week, this class is probably not for you.
Pete will be offering a CardioBurn class at the same time as this class that uses the majority of movements we'll use during this class. We intentionally scheduled it as the same time as StrongHer because we knew a lot of members want to learn the exercises but may not want to exercise as intensely as Amber does. Because Pete won't be working out with the class, he'll be able to coach you more effectively than we will in StrongHer once the circuit training starts.
StrongHer – 4 Week Intro
The first 4 weeks will be a mandatory introductory class where Amber and I will break down the movements, and teach them in steps. Intro workouts will be on Monday  and Wednesday at Ageless at 6:30pm. Each 45 minute workout will cover 3 exercises in detail. By the time the class is finished, you should be confident enough in those 3 lifts that you could perform a workout on your own the next day. You must attend 4 of the 8 introductory workouts to get access to the real workouts. During the first 4 weeks, the Monday and Wednesday class will be identical just in case members are still trying to rearrange their schedules to fit the Monday/Wednesday format. The first workout will be Monday, October 5th.
StrongHer – Phase I
Once the first 4 weeks are finished, the class will be more like a group workout. Amber will design the workouts and the entire workout will be written on the board before class starts. Because she will be exercising with the group, there will be very little coaching done. That's why we made the introductory classes mandatory. Once the circuit starts, things will move quickly, and you will expected to have a fairly good understanding of the movements as well as what weights you will need.  Amber will be running the workouts at Ageless and Barb will be running the workouts at Ageless-Staunton. As of now, the workouts will remain on Monday and Wednesday at 6:30pm. However, the group can change the days/times if need be.
Amber will change the workout every 4-6 weeks. Because this is basically a hybrid between personal training and classes, once the intro class are over, these workouts can be done on your own. You will have access to all of the workouts as well as videos online that explain the exercises in detail. You are still more than welcome to lift during the group workouts, but we wanted to add another level of convenience for the busy moms out there.
Sound like a plan? Get your chalk, grab your gloves, and put on your game face. We got some heavy iron to lift ladies.