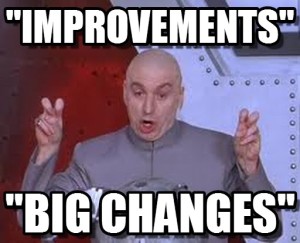 Fall is here, and it's time for a change. It's time to take a step back, and remember why we started down this path. It's time to reminisce.
I remember all of us sitting in my parents' basement when someone mentioned that the Curves in town was closing. It was the perfect storm, or put more eloquently, serendipity. At that time Amber and I were growing tired of driving to Carlinville to exercise, Pete and I were itching to begin our entrepreneurial journeys, and I had just finished reading Howard Schultz's "third place" hypothesis for Starbucks. Cue light bulb!
We never had a business plan. We didn't have a projection for revenue and expenses. We didn't forecast 5 years worth of P&L's. Profit was never even mentioned once during the planning. Instead, we asked ourselves one simple question – Wouldn't it be nice if Gillespie had a gym? And like that, a few months later everything seemed to fall into place and Ageless was born.
From the beginning, Ageless was never really a business. In fact, we still don't even consider ourselves a gym. Hence our mission statement:
We're not a gym. We're not a fitness center. We're not a business. We're a sanctuary for happiness. We're a place where people from all walks of life come to feel young again. Exercise is just a boring synonym for play. What we do in our classes, what we do with our personal training, what we do with our equipment is essentially just child's play. We're one big playground for adults.

In short, we're the fountain of youth. We help remind our members of the days of old, when youth blessed us with hope, belief, and change. Anything was possible then, and anything is still possible now. We remind them of the days when everything was much, much simpler. The smallest accomplishments resulted in the biggest smiles. Stress was as foreign to us as property taxes were. We were carefree, happy, and most importantly, living, not surviving. Maturity may have made some people forget, but we have not. For age is nothing but a number.
However, somewhere over the course of our success, we lost our way a little bit. Each year we were growing more and more, communities were calling us to open up an Ageless within their city limits, and it seemed like opportunities were everywhere. Success can be intoxicating, and one, if he isn't careful, can get drunk on the almighty dollar. Although we tried to remain focused, the songs of the sirens were too strong. Expansion was too enticing.
We opened up A2 in Staunton, and I took a leave from Ageless to pursue a gym in Edwardsville. The opportunities were just too appealing, and we, like the Once-ler, were blinded by rapid growth.
We lost our way.
No more. We're back on the path that we were once on, the simpler path. The path that has led every single one of us to the BenGil and Staunton communities,  small towns we call home. Pete, myself, and all of our current team members will be back, and we're bringing ideas, energy, and most importantly, a commitment to our members and the communities we serve. We'll never forget that simple question. Wouldn't it be nice if…….
And what about A2? We had a small army of great members in a great community that looked past our faults and supported us throughout. Unfortunately, we were spread too thin, and couldn't give it the time and investment a new business needs to grow and thrive. We contemplated long and hard about continuing in Staunton, but in the end, it just wasn't fair to our members. There is so much potential there, and we would never be able give it the effort it needs. Corrie loved A2 more than anyone, but even she realized she just couldn't give it the time it deserved. Ageless is and always will be our first love, and A2 would have always been Cinderella (Yes, I fully realize that's the 2nd reference to a cartoon. I apologize, but that's all that Taber watches).
So luckily we found someone who has the same passion and commitment we do, Austin Peterson.  A2 has been sold to him and will be renamed Ageless – Staunton. It will still be our sister gym, and members will still have access to both gyms. With Austin at the helm, it will get the time and attention it needs so that it's no longer in Ageless' shadow. You'll see immediate improvements on day 1, and you'll continue to see improvements over the next several months. Although the buildings will never be identical, the experience at both locations will be.
So with all of that said, we've spent the last 3 weeks reviewing your responses to our survey and have created a game plan to accommodate your suggestions. We'll start rolling things out on Oct. 1st, and you can expect to see gradual improvements over the next 12 months.
The 5 C's Plan (Cute name, right?)
Clear Vision
Communication
Consistency
Commitment
Cleanliness
Member Experience Upgrades for both locations

High School Access: High school kids (16 years of age and above) will be allowed to purchase a keycard that will open the doors from 6am – 10pm. An article will be posted tomorrow with more details.
Contests and Events: You can expect a contest or an event (5k, Fitness Challenge, etc) about every 8 weeks. Events will be held at both locations.  We'll have a yearly event schedule posted for 2016 on January 1st.
Technology: Eventually signing in will be as easy as swiping a keytag at the front counter. Plus, you'll also have access to an online account so you can change personal information and payment methods or look at your purchase history. You'll even be able to purchase a gym membership or renew your current one from your home computer.
Consistency: Class schedules will be released before the month starts, and the majority of the classes will remain on the same days at the same times from month-t0-month. No more late notice on cancellations. We are going to be consistent and committed to everything we do, and that includes staffing the front desk.
Investments: Some people collect cars. Some people collect baseball cards. I collect exercise equipment. No offense to Taber, but Ageless really is my first child, and I'll continue to spoil it. And when we run out of room, I'll find more room. Austin will do the same with Ageless – Staunton.
Member Experience Upgrades at Ageless

The Return: Pete and myself are coming back to run the gym and classes in the evenings. 6:30pm classes will be offered almost every night. Reggie will still be running the gym and classes in the mornings, as well as teaching some spin and evening classes. This one-two punch will allow us to offer a lot more classes, contests, and events.
New Classes: The first new class we will be offering is

StrongHer

with Amber, T.J., and Barb.  We'll continue to add new, exciting classes every month or so. Step appears to be the next class added in November.
Kids Activities: Terry, a.k.a Al, and Corrie will be offering a lot more kids activities including Little Dribblers, Little Kickers, and a few other surprises.
Renovations/Expansions: We're removing the tanning room and extending the personal training room so that we can offer small group classes in there. This small renovation should be done by mid October. We also have plans this summer for an expansion that will include a new spin studio and coffee shop to the west of our current building.
Member Experience Upgrades at Ageless – Staunton
The Team: Austin will take over Pete's role and will run the gym day in and day out. Familiar faces will still be instructing the expanded class lineup as well as a couple new faces who are looking forward to meeting everyone.
New Classes: Three new classes will be incorporated in the October schedule and those include an early morning bootcamp, Zumba and Insanity. We can't call yoga a new class, but yoga will be back in October too!
Improvements: After the building and grounds are renewed to a manicured state, large fans will be installed above both sides of the main floor that will provide enough air circulation to bring the temperature down 10 degrees. While we are working in the ceiling, the lighting will be reassessed and updated to better illuminating LED fixtures.
Renovations: Starting upstairs and working down to the main level, the spin room will be enclosed and air conditioned. Lighting effects will be installed in the group classroom so classes like GloKick and Zumba will be the ultimate party and later, the bathroom and entrance lobby will get an overhaul. Save some excitement for other small projects!
You have been extremely patient with us over the last several months, and we just want you to know how much we appreciate it. There will be some bumps during the next few months as the transition is completed, but we promise you that in the end it will all be worth it. Once again, we sincerely thank you for being a part of our family.
Bonus:
October Schedule is out!!!!! Click here: Class Schedule to download the October class schedule for both locations.