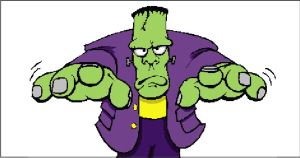 Calling all ghouls, goblins, ghosts, and humans….. Stretch those hammies and get those racing shoes ready. Our Haunted GloRun and Trunk or Treat event is scheduled for October 30th. It's going to be a BOOtiful night for the entire family.
Dad Problems….
It only took Pete and I one Halloween with little ones to realize two things: 1) It's a pain in the butt loading a kid up, stopping the car, unloading the kid, trick or treating, and repeating the process twenty times. 2) Moms love Halloween pictures. Worse yet, moms love it even more if the entire family dresses up and takes "cute" pictures on Halloween no matter how ridiculous the dad looks in a spandex superhero costume.
So we think we have a solution…..
Not only will we have a 1.5 and 3 mile race for monsters of all ages and fitness levels (Trust us, although this race will be timed and include prizes, it is a FUN race. Emphasis on fun), but we also will have a Trunk or Treat event in the Ageless parking lot after the race from 7-8:30pm. We're expecting over 30 trunks so the kids will have more than enough sugar to keep them up for days. We're also going to have a FREE Halloween photo opportunity for families and kids. The ladies of Ageless will have a cute Halloween backdrop in the gym, and Austin will be there taking pictures. Not only will we e-mail you the picture file, but we'll also have a commemorative picture printed for you. To all of the dads out there, you're welcome!
Side note: You do NOT have to participate in the race to attend the Trunk or Treat event. It's free for the entire community. We encourage all little ghouls and goblins to stop by for some candy. If you would like to have a trunk in the Trunk or Treat event, we'd love to have you. Just let us know how many spaces you'll need.
The Details
What: 1.5 and 3 mile GloRun race and Trunk or Treat event
Where: Ageless in Gillespie
When: Friday, October 30th. 1.5 and 3.1 mile race starts at 6:30pm. Trunk or Treat is from 7-8:30pm in the Ageless parking lot.
Who: The Trunk or Treat event and race is for humans, ghosts, and monsters of all ages. You do NOT have to dress up to race or attend the Trunk or Treat.
Cost: The Trunk or Treat event is FREE. There is a $20 fee for the 1.5/3 mile race. The $20 fee includes water, a free t-shirt, and a glow necklace. Children under 16 are free with a paid adult.
Prizes: A BOOtiful custom trophy for overall male, overall female, under 16 male, and under 16 female
100% of the proceeds will go to the Joyful Angels program. We will also be taking donations for the Joyful Angels throughout the night. We've set a goal this year of $3000 by December 1st.
Pick up a form at the front counter at Ageless in Gillespie or download it by clicking here :2015 Haunted GloRun Registration and mail it to the address on the form. Any forms received after 10/15 will NOT receive a free t-shirt.
If you have any questions, please call the gym at 217-839-2484 or e-mail anallan24@gmail.com.
Non-runners, retired runners, and those who just don't like running
For those of you that have never ran 1 mile 0r 3 miles, have retired from running, or think you move like Frankenstein so you've always avoided running, do not fret. Click here:Couch to 5k Training Program or stop by the front counter to grab a Couch to 5k training program that will get you in race shape by October 30th. We'll also have the workouts posted daily on our whiteboard in the gym and on our Facebook page.
Businesses
If you are a business that would like to have a trunk at the Trunk or Treat event, please e-mail us at anallan24@gmail.com. It's free. We also have sponsorship opportunities available too. Your business logo will be on the back of our shirt and on the race route flyer.