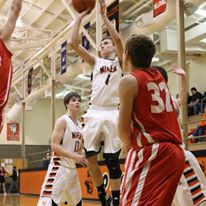 The offseason is here, and that can only mean one thing…. Basketball skill development at Ageless. This summer standout guard Evan Price will be offering small group basketball skill development workouts at Ageless during the afternoons so the workouts won't interfere with summer sports.
Dribbling Drills – Shooting Drills – One-on-One Moves
The Details:
When:  Wednesday and Friday starting June 3rd
Sessions 1: 11am-12
Session 2: 12-1pm
Session 3: 1-2pm
Session 4: 2-3pm
Where: Ageless in Gillespie
How Much: $50 per 4 week session includes two 60 minute workouts per week (8 per 4 weeks)
Availability: Limited to 8 kids per session. Due to the interest and the size of the gym, spots are filled on a first come-first serve basis. There will be no exceptions on class size.
Due Date: You must sign up by May 29th
Make checks payable to Evan Price
You can download a form by clicking here: Summer Basketball Form and mailing it to the address on the form, print one out and drop it off at Ageless in Gillespie, or pick one up at the front counter at Ageless.
If you have any questions, please call 217-8278974