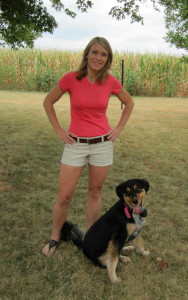 Just take a look at these sobering stats:
Only 8 out of

100

people are successful in achieving their New Year's resolution.
8 out of 10 people regain the weight they lost within 2 years, often regaining more weight than they had lost. It even happens to successful, driven individuals – Oprah, Kirstie Alley, and Kelly Clarkson.
2 out of 5 people who start a diet quit within 7 days. 1 out of 5 last a month.
Knowing those stats makes what you are about to read even more impressive than it is at first glance. Please check out Michelle's weight loss transformation by clicking here.
Although I could write an entire article on Michelle, the above article has so many great tidbits of useful information for EVERYONE that it would be better if you read it 2 or 3 times instead. Here are a few of my favorites though:
What I have learned is I can have these "off limit" foods on occasion and in moderation.
I can't afford the gym, I don't have time, I'm too out of shape….these are just excuses!
I've learned that when it comes to being healthy and fit, I am worth it and I deserve it!
Truth is, diets don't work. They don't properly teach you how to eat, and unfortunately, when you stop "the diet", you eventually gain the weight back.
Surround yourself with people who will support you.
Set small attainable goals, to be reached one at a time.
I had the pleasure of training Michelle and her fiance Jason when they first started our personal training program. If there was one thing that was blatantly obvious right from the start, it was that she loved a challenge. She loved being pushed. When she came to the gym, she was all business. She just didn't just have a goal; she had an objective. She wanted to sweat, burn calories, and push her body to the limit. And she did all of that with a smile on her face. She was THE ideal client.
Even more importantly though, she is one of the most humble people I have ever met. After all of the success she's had with her transformation, she was still hungry for advice. She was always inquiring about proper form, new exercises, and nutrition tips. And she returned the favor too. If someone asked her a question, she politely answered – no passing judgement, no hint of arrogance.
That's exactly why she's June's Member of the Month.